BattleStar Galactica: Le cercle
Lee constate que plusieurs personnes disparaissent dans la flotte. Des disparitions que l'on doit à un conseil de 5 personnes désignées pour juger les collaborateurs dans un tribunal exceptionnel. Parmi eux, Tigh, Anders, Tyrol et même Kara. Après avoir jugé les collaborateurs sans avocats, ils les condamnent à mort.Felix Gaeta a beaucoup de mal à se réintégrer à l'équipage.Baltar se retrouve sur un vaisseau Cylon en compagnie de Six et D'anna.
You must be logged-in to watch the video.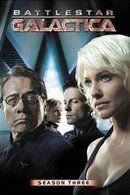 BattleStar Galactica: Le cercle
Episode Title: Le cercle
Air Date: 2006-10-27
Year: 2006