BattleStar Galactica: Exodus (Part #02)
Ça y est, l'heure de la libération a sonné! Le Battlestar s'apprête à faire un bon PRL tout près de New Caprica pour permettre à la résistance d'organiser le départ des troupes coloniales. Lee, toujours aux commandes du Pégasus, doit partir avec le reste de la flotte à la recherche de la Terre. Tigh comprend que sa femme a vendu des informations aux Cylons pour libérer son mari. Anders sauve Kara mais celle-ci refuse de partir sans sa fille.
You must be logged-in to watch the video.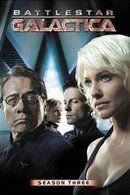 BattleStar Galactica: Exodus (Part #02)
Saison #03
Épisode #04

(Part #02)
Episode Title: Exodus (Part #02)
Air Date: 2006-10-20
Year: 2006