BattleStar Galactica: Exodus (Part #01)
Sharon a atteri sur New caprica et aide la résistance à combattre les Cylons. Sur le Galactica, Adama dirige l'assaut de ses troupes au sol. Tyrol tente de sauver Cally dont le nom se retrouve sur une liste de futurs fusillés à l'instar de Roslin et Zarek, une liste signée par Baltar. Anders découvre que certains humains collaborent en secret. D'Anna rencontre un oracle après un rêve à propos d'un temple.
You must be logged-in to watch the video.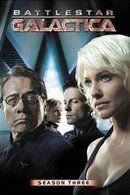 BattleStar Galactica: Exodus (Part #01)
Saison #03
Épisode #03

(Part #01)
Views: 11
Serie: BattleStar Galactica
Director: Félix Enríquez Alcalá
Guest Star: Amanda Plummer, Callum Keith Rennie, Dean Stockwell, Dominic Zamprogna, Donnelly Rhodes, Eileen Pedde, Emilie Ullerup, Erica Cerra, Kate Vernon, Leah Cairns, Luciana Carro, Lucy Lawless, Matthew Bennett, P. J. Prinsloo, Rekha Sharma, Richard Hatch, Rick Worthy, Ryan Robbins, Ty Olsson, Winston Rekert
Episode Title: Exodus (Part #01)
Air Date: 2006-10-13
Year: 2006