BattleStar Galactica: Le vol du Phénix
Tout le monde sur le Galactica paraît à bout. Le chef Tyrol en est l'exemple parfait, il n'arrive toujours pas à digérer la présence d'une autre Sharon sur le vaisseau. Pour essayer de passer à autre chose, il se met en tête de construire un nouveau Viper. Mais en même temps, un virus infecte tout l'électronique du Battlestar et les cylons sont prêts à attaquer.
You must be logged-in to watch the video.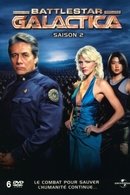 BattleStar Galactica: Le vol du Phénix
Episode Title: Le vol du Phénix
Air Date: 2005-09-16
Year: 2005