BattleStar Galactica: La dernière séquence
Depuis la mort de civiles sur le Gydéon, les citoyens sont de plus en plus hostiles aux hommes d'Adama. Dans un souci d'apaiser les tensions, Adama et la présidente Roslin autorisent une journaliste à filmer tout ce qu'elle veut à bord du Galactica. Mais est-elle bien ce qu'elle prétend ?
You must be logged-in to watch the video.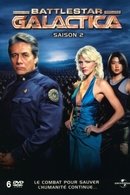 BattleStar Galactica: La dernière séquence
Episode Title: La dernière séquence
Air Date: 2005-09-09
Year: 2005