BattleStar Galactica: Posez votre fardeau (Part #01 & #02)
EPISODE 19: Kara va enfin revoir Anders, elle va en effet pouvoir conduire une mission de sauvetage sur Caprica. Grâce à Sharon les bons PRL à longue distance ne sont plus un problème. La flotte est en émoi car les élections approchent. La découverte d'une planète habitable par racertrack va donner un enjeu supplémentaire à l'affrontement entre Gaius Baltar et la Présidente Roslin.
EPISODE 20: Quand Baltar remporte les élections, Roslin envisage toutes les possibilités pour empêcher celui qu'elle considère comme un collaborateur des cylons à prendre le pouvoir.
You must be logged-in to watch the video.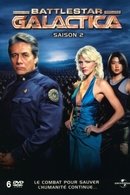 BattleStar Galactica: Posez votre fardeau (Part #01 & #02)
Saison #02
Épisode #19

&

#20
Episode Title: Posez votre fardeau (Part #01 & #02)
Air Date: 2006-03-03
Year: 2006