BattleStar Galactice: Une main de fer
Rien ne va plus entre Kara et le nouveau commandant du Pegasus, d'autant que lors d'un exercice des raptors disparaissent. Lee est donc envoyé sur le Pegasus pour essayer de remettre de l'ordre. Sur le Galactica, une passagère clandestine est découverte dans un hangar. Elle est enceinte et veut interrompre sa grossesse. Le débat sur l'avortement dans une période où l'espèce humaine est menacée, prend alors une grande ampleur.
You must be logged-in to watch the video.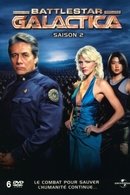 BattleStar Galactice: Une main de fer
Episode Title: Une main de fer
Air Date: 2006-02-17
Year: 2006