BattleStar Galactica: La vengeance
Dualla ne sait plus quoi faire, son cœur balance entre Billy et le capitaine Adama. Lors d'une permission, elle va sur le Cloud 9 avec Lee quand tout à coup un groupe de terroristes prend tout le monde en otage. Ils veulent le cylon Sharon.
You must be logged-in to watch the video.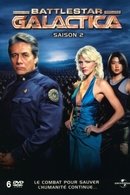 BattleStar Galactica: La vengeance
Episode Title: La vengeance
Air Date: 2006-02-10
Year: 2006