BattleStar Galactica: Double affrontement
Voilà 29 jours que la flotte stagne autour d'un site d'extraction minière. Le filon est tellement important qu'il permettra de reconstituer une flotte de vipers. Mais les cylons rôdent et les pilotes doivent défendre le site d'extraction. Un appareil cylon fait peur à tout le monde, on l'a appellé Scar. Face à cette ennemi, Starbuck et Kat rentrent en conflit.
You must be logged-in to watch the video.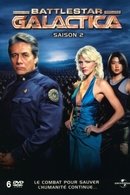 BattleStar Galactica: Double affrontement
Episode Title: Double affrontement
Air Date: 2006-02-03
Year: 2006