Battlestar Galactica: Marché noir
Roslin guérit de son cancer, elle reprend rapidement le travail. L'une de ses préoccupations premières est de mettre fin au marché noir qui prend de plus en plus d'ampleur dans la flotte. Un incident vient renforcer tout le danger de ce marché, quand le nouveau commandant du Pegasus, Fisk, est sauvagement assassiné dans ses quartiers. Lee va mener l'enquête.
You must be logged-in to watch the video.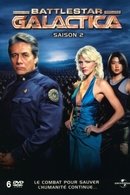 Battlestar Galactica: Marché noir
Episode Title: Marché noir
Air Date: 2006-01-27
Year: 2006