Battlestar Galactica: Opération survie (Part #02)
La trêve est toujours d'actualité entre le Galactica et et le Pégasus en attendant l'attaque de la flotte cylon, mais Tyrol et Helo sont toujours détenus. Cependant personne n'est dupe, la mission achevée, la lutte entre l'Amiral Cain et le commandant Adama va reprendre.
You must be logged-in to watch the video.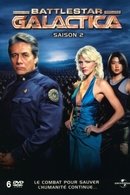 Battlestar Galactica: Opération survie (Part #02)
Saison #02
Épisode #12

(Part #02)
Episode Title: Opération survie (Part #02)
Air Date: 2006-01-13
Year: 2006