Battlestar Galactica: Opération survie (Part #01)
Rien ne va plus entre Adama et l'Amiral Cain. Celle-ci a rétribué les postes, Apollo et Starbuck sont mutés sur le Pégasus. Plus grave, Helo et Tyrol qui ont sauvé Shrron d'un viol, sont condamnés à mort. Adama décide donc de les sauver. Starbuck part en mission de reconnaissance près du vaisseau cylon. Gaius fait de plus plus de progrès avec la cylon.
You must be logged-in to watch the video.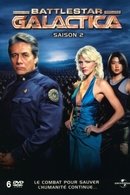 Battlestar Galactica: Opération survie (Part #01)
Saison #02
Épisode #11

(Part #01)
Episode Title: Opération survie (Part #01)
Air Date: 2006-01-06
Year: 2006